---
Institute for art, technology and conservation (IKK)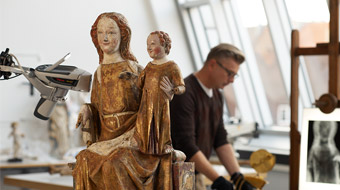 The Institute for Art Technology and Conservation at the Germanisches Nationalmuseum is one of the largest and technically most advanced institution of its kind in Germany.
Studios of the institute
In 12 studios of the institute 30 restorers are entrusted with the material conservation and technical examination of objects in the collection.
Research
Next to the everyday concern for objects, the technical examination of all cultural objects in the museum is of the highest priority. It is for this reason that the studios are not organized according to materials or material groups but according to the cultural-historical context of the artefacts. In compliance with the responsibilities of a research museum, the scientific handling of the collections is of the Institute's primary importance. This effects the restoration of objects which – contrary to the literal meaning of the word – not always aims to restore the object but instead takes into account the character of the object in its original context. Conservation too does not solely concern itself with stabilizing intervention but also with creating an environment most conducive to the preservation of the object. In this respect too the Institute aspires to work out solutions of general validity and exemplary character.
Equipment
The Institute houses equipment for the technical examination of objects: among others, different microscope workstations, a mobile x-ray fluorescence analyzer, a mobile high resolution infrared imaging system, and x-ray equipment. In addition, a nitrogen fumigation chamber is available for the control of pests and diseases.
In special cases, the technical equipment may be used by a third party for reimbursement of costs.
Promotion and training programs
The Institute offers five pre-interns the possibility of a one- to two-year training program as part of their admission to the restoration course at an institute of higher learning. Furthermore, students of restoration have the possibility to complete practica or practice terms or to prepare their final thesis. For graduates of restoration the Institute offers a post-graduate trainee program.
Consultation
The restorers participate at the museum's public appraisals. All inquiries directed exclusively to the Institute should be sent in writing with appropriate photos. All appraisals exclude monetary evaluations.
Guided tours

In special cases, tours may be individually arranged with restorers for at least € 150. Participants are limited to 15 persons.