---
Registrar's office and exhibition organization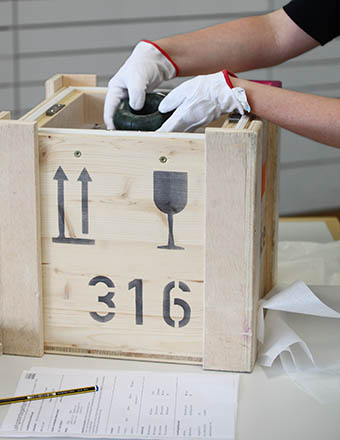 The department is the GNM's central service and coordination point for loans, exhibition organization, and the documentation and administration of object receipt data.
Each year, the GNM supports numerous exhibitions within Germany and abroad through loans from its collections. The organizational work required for these extensive loan processes is one of the department's main tasks. In addition to the internal coordination of procedures in conjunction with the heads of the collections and the restorers, this includes the necessary clarifications with recipients of the loans and the art transportation companies.
For the special exhibitions in the GNM, the department is responsible for organizational tasks related to the loans. These tasks include handling the loan processes, inviting bids for transportation services, and the logistics of setting up and dismantling exhibitions. The department acts as the point of contact and coordination for lenders, restorers, art transportation companies, and insurance companies.
The department is responsible for documenting and managing legally binding documents connected to the collection objects. This involves the drawing up, safekeeping, and maintenance of contracts for permanent loans, purchases, and gifts, entry in the register of receipts, and inclusion in the inventory on the GNM database. For questions relating to loan agreements and organizational matters, in particular, the department serves as the GNM's official contact for the lender community.