---
Early Modern Clothing in the Germanisches Nationalmuseum
Project duration: 2012 – 2015
The Germanisches Nationalmuseum owns ca. 30 pieces of clothing and accessories from 1580-1650, internationally recognized as the most significant museum holdings of early modern clothing.
The only catalogue of the collection, which furthermore is incomplete, dates from 1926 (Walter Fries, "Die Kostümsammlung des Germanischen Nationalmuseums zu Nürnberg", in: Anzeiger des Germanischen Nationalmuseums 1924/25 [1926], pp. 3-65, esp. 3-36). More recent publications are sporadically scattered in specialist literature. The scientific treatment and restoration of costumes have been a longstanding desideratum. Both are starting points of a research and exhibition project that examines clothing as part of 16th- and 17th-century material culture as well as in its social integration and medial role in images.

Dress Culture around 1600
By joining original costumes with archaeological finds, a representative combination of the two large groups of vestimentary material sources of the Early Modern period is being planned. Sequences on dress production (tailoring manuals, tools, etc.), dress requirement, care and storage provide insight into practices in the Early Modern period.

Dress in Images
The second part of the project concerns itself with the readability of early modern dress in images. The rich vocabulary of dress codes determined by status, situation, age or national characteristics has to be newly interpreted within its historical context for today's viewer. The clothing in paintings is not a mirror of reality but a medium and reflection of the multifaceted expressions in the dialogue between patron and recipient. Currently the question of the symbolic character of costumes in paintings increasingly has entered the methodological art-historical discourse. The present project and exhibition intend to provide the necessary historical foundation for this discussion.
The costumes will be recorded in the digital documentation system of the GNM and made available in new photographs. The exhibition will be accompanied by a catalogue that will partly serve as a collection catalogue. Back to Overview
Resonsible
Dr. Jutta Zander-Seidel
Dr. Anja Kregeloh
Maria Ellinger-Gebhardt
Ada Hinkel
Petra Kress
Sabine Martius
Laura Peters
---
Further Objects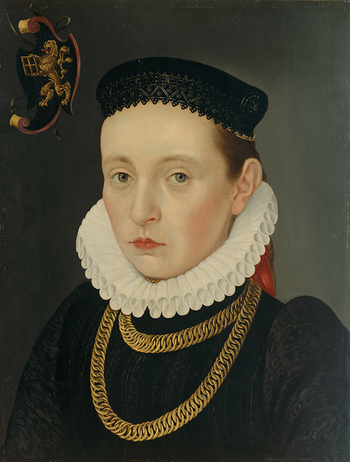 Bildnis der Clara Praun (1565-1638), Lorenz Strauch, 1589