The history of the Germanisches Nationalmuseum
The Germanisches Nationalmuseum, founded in 1852, was initiated by the Franconian nobleman Hans Freiherr von und zu Aufseß with the intention of establishing a "well-ordered general repertory of the entire source material for German history, literature and art".

The word "germanisch" in the museum's name refers to the "germanic cultural area", i.e. those areas in which German was spoken at one time. The founding of the museum intended to document the unity of the German-speaking cultural regions, specifically in view of the failed political unification of German states in 1848 – a politically and culturally forward-looking vision. With the creation of the German Reich in 1871, the Germanisches Nationalmuseum officially became the national museum of German art and culture.#

Today the museum's holdings contain more than 1.3 million objects, thus constituting the largest museum of cultural history in German-speaking countries. More than 22,000 permanently displayed originals offer a journey through time, from a stone age hand-axe and the Golden Cone of Ezelsdorf to medieval sculptures of Veit Stoß and Tilman Riemenschneider, the Behaim Globe, Albrecht Dürer's imperial portraits, Rembrandt's self-portrait all the way to that of Ernst Ludwig Kirchner.

Research project on the foundation of the Germanisches Nationalmuseum
The architecture of the Germanisches Nationalmuseum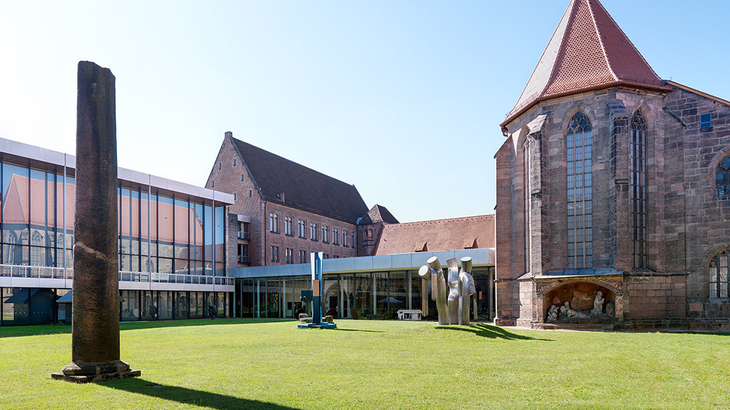 In 1857, the Bavarian king presented to the museum's founder, Hans von und zu Aufseß, the former Carthusian monastery at the southern border of the old city of Nuremberg. The unique fourteenth-century architectural ensemble of cloister, church and monks' dwellings offered enough space for the collection of the Franconian nobleman whose aim it was to document and present the cultural and historical connections within the German-speaking regions, an idea still pursued by the museum today. The constant growth of the collection motivated by this idea repeatedly demanded the extension of the building.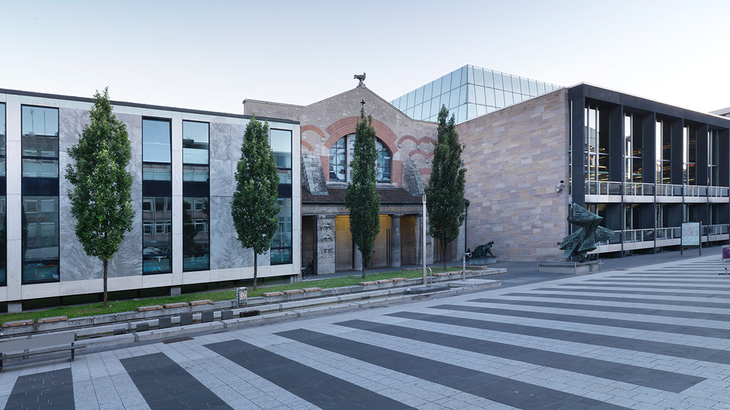 As early as at the beginning of the 20th century, neo-Gothic buildings at the Frauentormauer were added to the museum. The area which today includes the personnel entrance at the Kornmarkt and the so-called "Galeriebau" by German Bestelmeyer originated during World War I and shortly afterwards.
After the massive destructions of World War II, the museum's exterior appearance is formed by the buildings of the architect Sep Ruf from the 1950s and 1960s at the Kornmarkt as well as the glass construction of the Museum Forum with today's entrance hall, designed by the architectural group ME DI UM. The Avenue of Human Rights created by the Israeli sculptor Dani Karavan leads directly to the museum's entrance, forming an important accent in Nuremberg's urban landscape.

Suggested literature:
Großmann, G. Ulrich: Architektur und Museum – Bauwerk und Sammlung. Das Germanische Nationalmuseum und seine Architektur. Ostfildern 1997.